Cumming Hotel - A Gay Monsters' Life
A downloadable game for Windows
You can support me on my Patreon!
[NEW BUILD UPDATED ON 10-25-2019]
This game is NOT FINISHED! IT'S A GLIMPSE OF MY NEW PROJECT. As it will be launched in 2020 Q1, more versions will be published in this page. Stay tuned and follow my dev page on Itch.io!

----- PAY ATTENTION-----
This game IS NOT a visual novel or a gay drama! I'm trying to create other types of gay game experience, so download this game having this in mind.

Cumming Hotel is a game about a couple managing a Hotel and trying to earn enough money to pay the last installment of their business. Mixing different genre elements (including a traditional J-RPG), this adventure is based on a Slice of Life (a not so common genre on West). In this genre, you can perform (or not) some actions according to the days of the week.
In CH, you'll play with two characters. During the day, you'll play with Bruce, a wolf who takes care of managing aspects like hiring employees, choosing the menu and serving clients. During the night, you'll play with Kyle, a Rouge (and a spider guy) who will explore the Horny Tower, a place where each floor has a naughty curse and horny monsters. Your goal is to earn 500k of rupes before day 31 st.
This version has the first moment of two different scenes which end on hot sex scenes (this will be available soon). The next scenes will be Bruce's Measures performed by Francis on the second floor of the hotel and Kyle's Striptease at the Village Bar. Also, 7 days are available.

Born in two different small villages of gay monsters in the Argania Kingdom, Bruce and Kyle met for the first time in the Magic Training Center. After a lot of successful missions, Kyle invited Bruce on a date.
During a few months, they lived an overwhelming passion and recently they got married. Trying to live a new life together, they bought a Hotel in Magnolia Village, a small touristic place where adventurers usually stay while exploring the Horny Tower.
As the Tower has a different naughty curse for each Level (a group of floors) and partnership is one of the most important things for both, they will live their open relationship while they try to pay the last installment of their venture serving guests/monsters in naughty ways.

Slice of Life RPG;
Two types of Gameplay (including a J-RPG);
Explore a Tower with different Horny Curses;
Job System;
Monster Sex;

Male Doll has a Discord and I've been online all day (if it's possible) working on Male Doll projects. If you want to report a bug, make suggestions or even chat, it will be a pleasure to meet you.

Wanna contact me?
Feel free to email me or use Male Doll medias. maledollstudio@gmail.com
Social Media
Download
Click download now to get access to the following files:
Cumming Hotel - A Gay Monsters' Life 2.00
584 MB
Comments
Log in with itch.io to leave a comment.
How can I see the the second part of Orc massage scene?
Hello, Juan. Thank you for your patience. To watch the second part of the 'Orc Massage Scene', you need to have the minimum requirements. You can check this information by talking to Brimon after you unlock the first scene or you can check it below. [Stamina 7, Desire more or equal 310, Trust less or equal 89]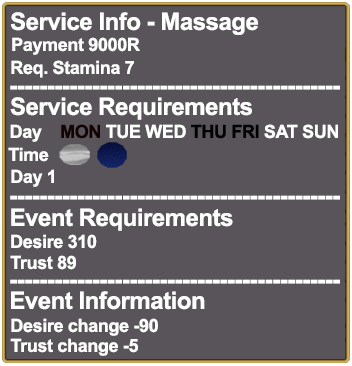 You have a very nice game here, but a couple of things.
1. WAAAAY too much information at the start. You might want to think about starting the daring duo off at the inn and then drip feed information to players as they explore the town at will. This way they aren't bombarded with line after line after line. of text, of which most doesn't really matter. Like Saint Cer? I assume that's the deity of the world?! That can be found out by talking to an NPC, maybe even doing a quest to find a lost necklace bearing this saint's image and getting backstory on it.
1a - Also, you may want to explain or show some backstory on the pair so the players feel attached to them. This could be done in a number of ways, but an easy way is to show their lives before they got together in 'flashback' scenes.
My favorite game does this several times.
2. Tone down the orc enemies. A good rule of thumb is that you should be able to defeat most enemies in about 3-4 shots of your regular weapon strikes. I was using the spider guy's special skill and still couldn't one shot them. So this made fights more of a drag than a joy.
3. You may want to create other items for the players to find in the dungeons, because all I found was vegetables and if I could buy them then there was no point to searching for them.
4. EXPAND THE DUNGEONS!! Narrow corners are fine when you don't have visible enemies on the screen, but with visible ones it becomes more of a chore to move around them.
5. Not sure about this since I could only get to level 5, but are you going to have a boss monster on every 10th floor? If so, then that's fine, but if you aren't then you should have some kind of barrier every 5 floors to make it so that the play has something to engage with, because after the first few fights I blew through the dungeon just to see what else was ahead.
6. Personal note: Let the Wolf go into the dungeon. I want to fight as the pupper! <3
7. You've got very good designs for the town, though some of the animals don't make sounds, like the horse during and such. Not sure if that was by choice or not, but just thought you should know.
8. More varied enemies. I know you just started, but perhaps mix it up with three enemy types. Orcs - Bats - Spirits, that way the players have some variety to fight against.
9. Lower the player level and give them a chance to build up the wolf/spider guy's strength, that way they feel attached to them.
10. More varied skillz, please. Since the spider guy seems like a rogue/assassin, probably give him skills to weaken enemy stats and inflict status ailments and darkness based spells. While giving the wolf guy buffing and healing and holy skills, that way the dichotomy between them can be more varies.
11. Ultimate skills - If you're going for 100TP then you should make sure that this skill can do extreme damage because most fights ended before I could get them to this number.
11a. Perhaps give both of them Super + Extreme skills at around 30 - 60TP respectively, this way you can show off their personalities through these skills. I.e - Spider Guy - Ravenous Web (A Super Skill which stuns on enemy and drains HP) Dead Man's Touch (An Extreme Skill which does x3 damage but has a high chance to kill none boss enemies)
You're doing a great job over all. The music and feel is great. Keep it up!
THANK YOU SOOOOOOOOOOOOOO MUCH FOR THIS AMAZING FEEDBACK, KDM. I'll start to work on it right now! Also, I appreciate that because I'm a solo developer, and there are some things that escape me while I'm developing and managing the whole project. I hope in the next version some of your suggestions will be implemented. Thank you for your patience [I was on a trip].
If you want some help + guide then I can give you my discord.
I'm working on my own games, so I know that an extra brain can help with the creativity!
I'll be glad if you can send me your Discord! Also, I've already played Broken Chains, and I'm looking forward to updates! It's a lovely game =]
Any plans for an android version?
please finish this game. please. i love. how do drink pinga